Coordinated School Health
Contact Name
Department
Job Title
Coordinated School Health Coordinator School Nurse
What is Coordinated School Health?
A coordinated school health program (CSH) model consists of eight interactive components based on a model created by the Centers for Disease Control and Prevention.
Health Education - a K-12 curriculum that addresses the physical, mental, emotional and social dimensions
Physical Education - a K-12 curriculum that provides cognitive content and learning experiences in a variety of activity areas
Health Services - are provided to students to appraise, protect, and promote health
Nutrition Services - provide access to a variety or nutritious and appealing meals that accommodate the health and nutritional needs of all students
Counseling and Psychological Services - provided to improve students' mental, emotional, and social health
Healthy School Environment -involves the physical and aesthetic surroundings and psychosocial climate and culture of the school
Health Promotion for Staff -provide opportunities for school staff to improve their health status through activities such as health assessments, health education and health-related fitness activities
Family/Community Involvement -an integrated school, parent, and community approach for enhancing the health and well-being of students.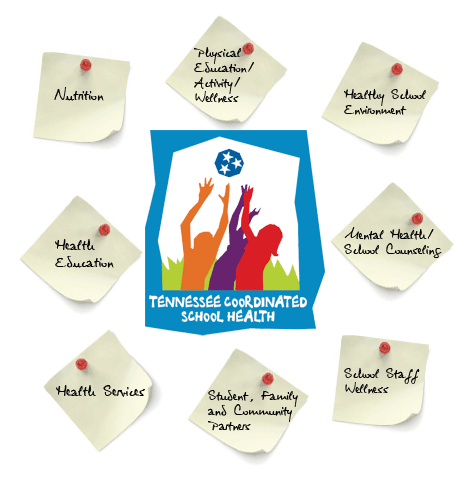 BENEFITS ASSOCIATED WITH COORDINATED SCHOOL HEALTH
The purpose of this fact sheet is to summarize the
available evidence linking Coordinated School Health
and academic achievement/outcomes.
Benefits to Students
Improved student academic performance and test scores

Decreased risky behaviors

Reduced drop out rates

Less absenteeism

Less fighting

Less smoking

Improved rates of physical activity

Lower rates of teenage pregnancy

Prepare students to be productive members of their communities

Increase interest in healthy diets
Benefits to Schools
Reduced expenditures

Reduced duplication

Reduced absenteeism and classroom behavior/disciplinary problems

Improved staff morale

Less smoking

Support of teacher teamwork

Increased awareness and involvement of families and community
Coordinated School Health Modules are associated with the following benefits for students and schools
HEALTHY SCHOOL ENVIRONMENT (Module 1)
The physical condition of a school is statistically related to student academic achievement

An improvement in the school's condition by one category, say from poor to fair, is associated with a 5.5 point improvement in average achievement scores

Students who develop a positive affiliation or social bonding with school are:

More likely to remain academically engaged

Less likely to be involved with misconduct at school
COMPREHENSIVE SCHOOL HEALTH EDUCATION (Module 2)
Students who participate in health education classes that use effective curricula demonstrate increased health knowledge and improved health skills and behaviors

Students who participate in health education classes that use effective curricula report decreased risky behaviors relative to the program

Reading and math scores of third and fourth grade students who received comprehensive health education were significantly higher than those who did not receive comprehensive health education

Comprehensive health education and social skills programs for high-risk students are associated with improved school and test performance, attendance and school connectedness. And this success was still apparent six years later.
SCHOOL NUTRITION SERVICES (Module 3)
Poor nutrition is associated with lower cognitive functioning and performance in the areas of language, concentration & attention

Eating breakfast is associated with better student performance on standardized tests

There is a 20% increase in type II diabetes among school-aged youth

Regularly attendance of school breakfast programs by students is related to better school performance, fewer psychosocial symptoms, less hyperactivity and better daily attendance

School breakfast programs are associated with:

Increased learning and academic achievement

Improved student attention to academic tasks

Reduced visits to the school nurse

Decreased behavioral problems

Positive influences on academic performance, absenteeism, and tardiness among low-income elementary school students
PHYSICAL EDUCATION (Module 4)
Students with poor nutrition & low levels of physical activity are more likely to be absent and tardy

Higher achievement was associated with higher levels of fitness among 5th, 7th & 9th graders

Schools that offer intensive physical activity programs see positive influences on academic achievement even when time for PE is taken from the academic day, including:

Increased concentration

Improved mathematics, reading and writing scores

Reduced disruptive behaviors

Physical activity among adolescents is consistently related to higher levels of self-esteem and lower levels of anxiety and stress

Physical activity is positively associated with academic performance

Students who participated in school physical education programs did not experience a harmful effect on their standardized test scores, though less time was available for other academic subjects
SCHOOL HEALTH SERVICES (Module 5)
Preventive health services provided through schools, coupled with health education and counseling that promote healthy lifestyles and self-sufficiency, can help contain health care costs

Schools with school-based health centers report:

Increased school attendance

Decreased drop-outs and suspensions

Higher graduation rates
SCHOOL COUNSELING, PSYCHOLOGICAL AND SOCIAL SERVICE(Module 6)
Most school administrators, board members, teachers, parents and students realize that for students to benefit from their school, society must address social, emotional, and physical health problems and other major barriers to learning

School-based mental health services, with the involvement and support of families and educators, improve educational outcomes by addressing behavioral and emotional issues and other barriers to learning

Youth receiving mental health services have experienced decreases in course failures, absences, and disciplinary referrals, and improved grade point averages

Children's participation in a social service intervention aimed at promoting student success by improving parent-child and parent-teacher communication was associated with improved academic performance
SCHOOL SITE HEALTH PROMOTION FOR STAFF (Module 7)
Teachers who participated in a health promotion program focusing on exercise, stress management, and nutrition reported:

Increased participation in exercise and lower weight

Better ability to handle job stress

A higher level of general well-being

Students benefit from having healthy teachers because:

Teachers are more energetic

Teachers are absent less often

The school climate is more optimistic

A healthy staff does a better job of teaching and creates a better working and learning environment

Health promotion for staff influences productivity and absenteeism, and might even reduce health insurance costs (based on findings from other worksite initiatives)

It also influences morale and a greater personal commitment to the school's coordinated health system, which is transferred into student enthusiasm

School worksite programs have brought about changes in employee health including helping faculty and staff stop smoking, adopt healthful eating behaviors, increase physical activity and better manage emotional stress
FAMILY AND COMMUNITY INVOLVEMENT IN SCHOOL HEALTH EDUCATION (Module 8)
Schools that collaborate with students' families, local businesses, community organizations, and health services see:

Improved classroom behavior

Increased PTA membership

Improved family functioning

Students whose parents are involved in their education show:

Significantly greater achievement gains in reading and math than students with uninvolved parents

Better attendance

More consistently completed homework.

Community activities that link to the classroom have positive influences on:

Academic achievement

School suspension rates

School-related behaviors
(Source - http://www.cde.state.co.us/cdeprevention/results.htm)
More detailed reviews of the evidence supporting the benefits of coordinated school health are available at cited references listed on this site including:

Healthy Kids Learn Better

Making the Connection: Health and Student Achievement.
Coordinated School Health Award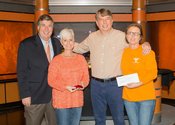 Tennessee's Coordinated
School Health Initiative

The Tennessee Department of Education works in collaboration with the Tennessee Department of Health and the Centers for Disease Control& Prevention to implement Coordinated School Health (CSH) in Tennessee. Based upon passage of The Coordinated School Health Improvement Act of 1999, Chapter 554 and the subsequent 2006Public Chapter 1001, CSH was created and funded with state budget dollars to implement CSH to all school systems in Tennessee. Funds support the development of a local infrastructure to promote health and wellness for all students and staff and thereby decrease barriers that prevent students from achieving their full academic potential.

State of Tennessee School Laws
and Adoptions by the
TN State Board of Education

TCA 49-1-1002 the Coordinated School Health Improvement Act – Local school systems will initiate and develop the eight component model of Coordinated School Health and ensure compliance of the following:

Requirements regarding Family Life Curriculum which includes one open public meeting every three years beginning in 2007 (Meeting held September 25, 2007 at 7:00 p.m.)

Requirements regarding the administration of medications and health care professionals and the secure storage of medications, recordkeeping and the orientation and training of all school personnel that handle medications by a school health nurse or a licensed health care professional.

Requirements regarding the employment or contracting for school health nurses at the ratio of at least one fulltime school health nurse per school system and additional positions as provided through the Basic Education Program (BEP) funding formula.

Requirements regarding the professional practice of nurses, including the supervision of school health nurses by a Registered Nurse, Certified Nurse Practitioner, and/or physician.

Requirements with regard to school counseling programs regarding the employment of licensed school counselors and the professional practice of school counselors.

That all individuals employed, contracted and/or otherwise engaged in providing professional services in any of the components of Coordinated School Health are qualified and licensed according to state law and regulations.

TCA 49-6-1001 the Physical Activity Law – It shall be the duty of each local education agency to integrate a minimum of ninety (90) minutes of physical activity per week into the instructional school day for elementary school and secondary school students. Opportunities to engage in physical activity may include walking, jumping rope, playing volleyball, or other forms of physical fitness that promote fitness and well-being.

In 2004, the United States Congress established a new requirement that all school systems with a federally funded school meals program develop and implement wellness policies that address nutrition and physical activity by the start of the 2006-2007 school year (The Child Nutrition and WIC Reauthorization Act of 2004). This policy addresses the physical activity aspects of the requirement and provides information to school systems to use in developing their own policies.

The Tennessee State Board of Education Physical Activity Policy states that beginning July 1, 2006, each school within the LEA will begin implementation of the School Health Index, which can be obtained free of charge. The School Health Index is an internationally recognized researched-based instrument developed by the Centers for Disease Control and Prevention, Division of School and Adolescent Health. This instrument was developed to provide a self assessment and planning tool to allow schools to assess the healthy learning environment.

TCA 49-6-2307 – As commissioned by a state law that passed in 2004, the Tennessee State Board of Education proposed nutrition standards for competitive foods available to K-8 students in school vending machines. The new nutrition guidelines do not affect high schools or private schools, but do extend to all the vending machines, snack bars, school stores, fundraisers and individually packaged cafeteria items in schools serving preschool through grade 8. The guidelines also require smaller serving sizes and specific caps on the amount of fat (at or below 35% excluding nuts, seeds and nut butters), salt (no more than 230 mg – 600 mg based on item) and sugar (at or below 35% by weight) allowed in foods.
Bradford Special School District
Office of Coordinated School Health
Dana Garner - Coordinator - dgarner@bradfordspecial.com
Tammy Cunningham - Assistant - tcunningham2@bradfordspecial.com
Office - 731-742-3165
Parents: Please visit our Nutrition Nuggets Newsletter
Please visit our Photo Album to see current pictures